Contact Us
LAOEKSPERT OÜ
Mustamäe tee 18A
10 617 Tallinn, Estonia
Open:M-F, 9.00-17.30
Tel: +372 6 722 380
Fax: +372 6 722 381
GSM: +372 52 66 297
Need Advice ?
Frame 3000x1050, 90*67*2
Code: 60-3000/90672
Goods in stock, delivery time: 2-4 days
82.00 €
Price excludes VAT
The side frames consist of two posts, two post footings, connecting elements between the posts, and fixings.
The side frame has been powder-coated blue.
The load capacity of the side frames in the case of stock goods is up to 13 000 kg.
Side frame height 3000 mm.
Side frame depth 1050 mm.
The adjustment step of a load-bearing beam attached to the side frame is 75 mm.
Delivered in parts.
View full product information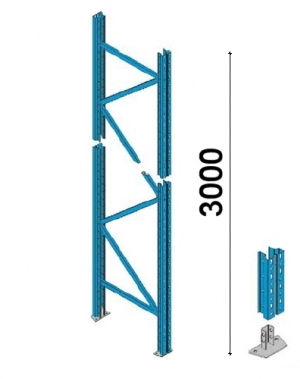 Compatible product groups